Wild Arabia is a three-part series produced by the BBC Natural History Unit. John filmed in Dubai and Abu Dhabi in the United Arab Emirates and in Jordan. As well as filming the flocks of flamingoes which winter close to the spectacular skyline of Dubai city, John also helped film camel racing, falconry in the desert and the migratory harriers which hunt songbirds around irrigated areas in Jordan.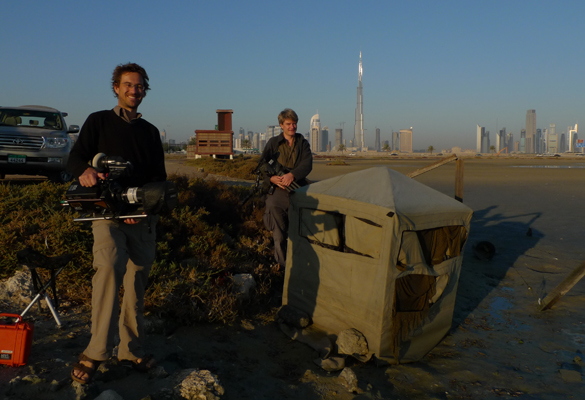 Filming flamingoes in Dubai with Fredi Devas.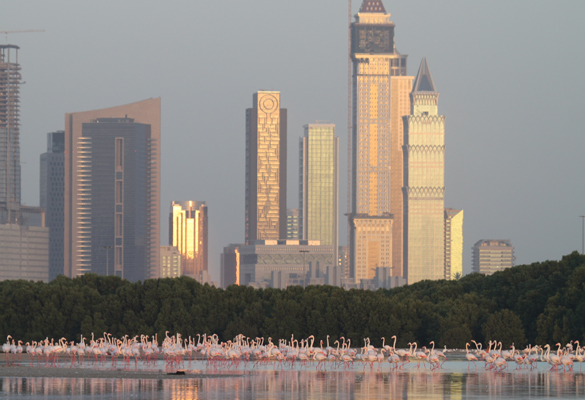 The rising sun reflects in the glass faces of some of Dubai's skyscrapers and, in turn, in the waters of the lagoon.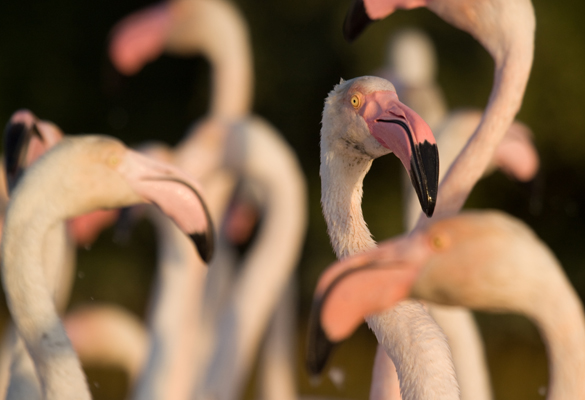 Flamingoes filter feed for brine shrimps. Some of these birds have flown here from Turkey and Iran.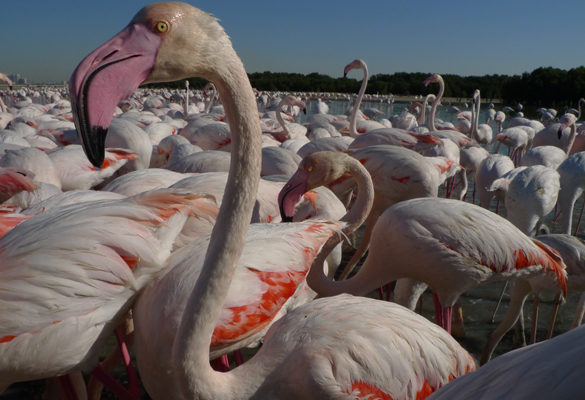 The joy of using a hide is that the birds soon became very used to it and took no notice that I was there.
If you ever wondered as a child what it would feel like to be invisible, this is it.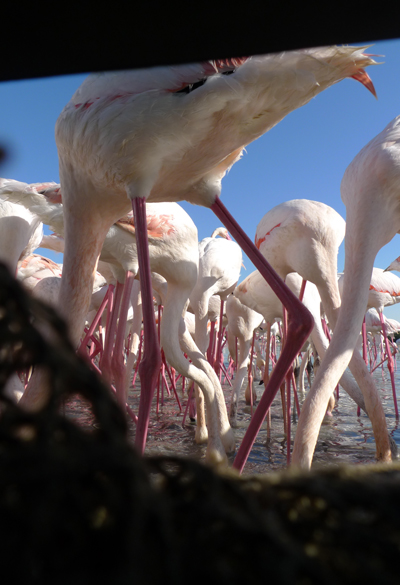 There's nothing better when you are filming than to be so close to wild birds without them minding.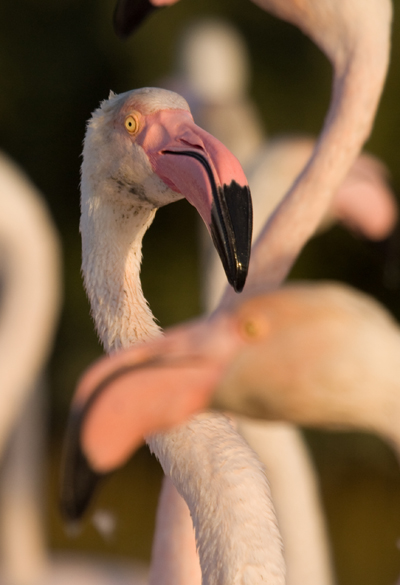 Flamingoes make such odd and interesting shapes, their bills adapted to feeding upside down.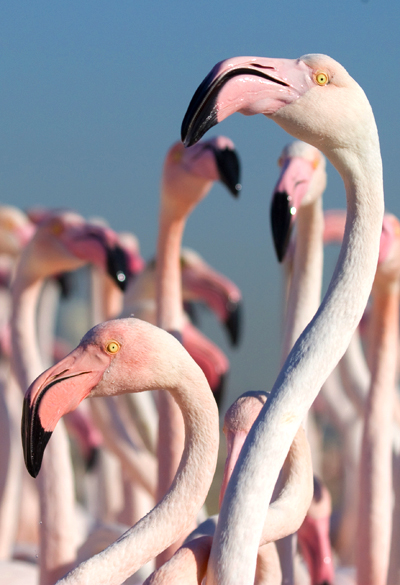 That these birds are still doing well here, despite the huge new city right alongside them, is a tribute to the hard work of Kevin Hyland, the Dubai Wildlife Protection Officer without whom this filming would have been impossible.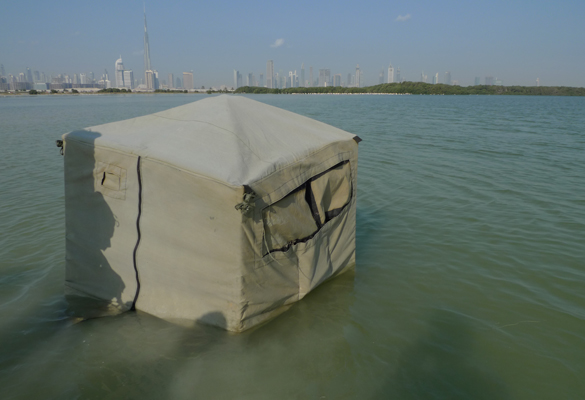 Of course it's crucial when you are being trusted by wild birds not to abuse that trust. That means you don't go into or come out of the hide if something inconvenient happens, like the tide coming in.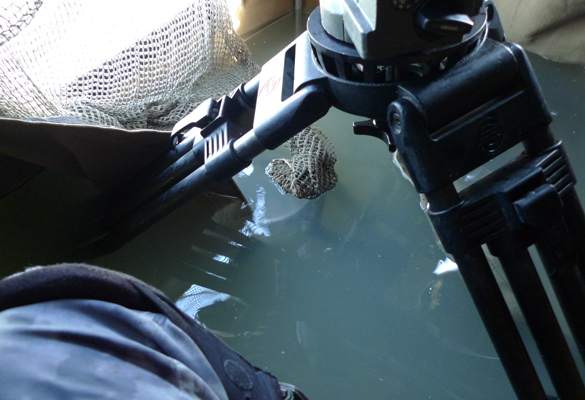 By now it was lapping the underside of my seat and the birds had all gone – time to come out.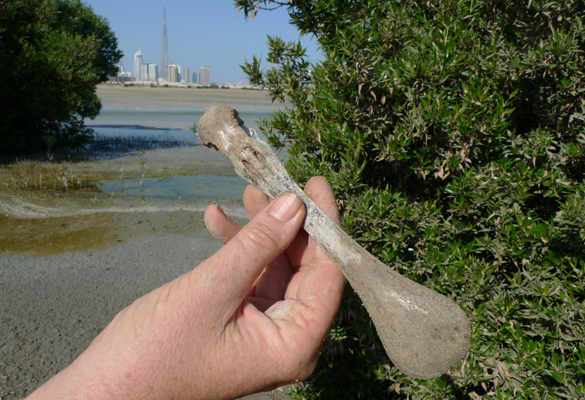 A lucky find – the skull of a spoonbill. What an extraordinary bill. We gave it to Kevin as a thank you for all his help.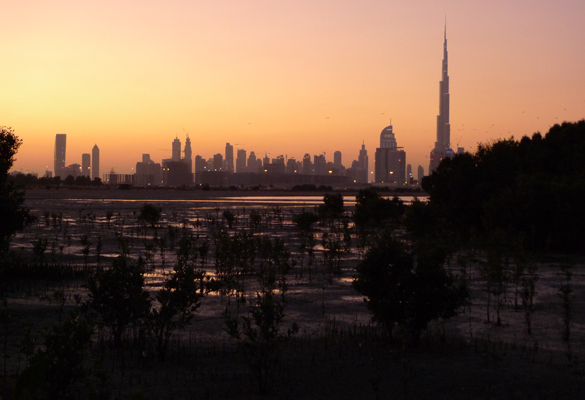 Cities should always have wild places next to them to remind us that all our towers are built on sand.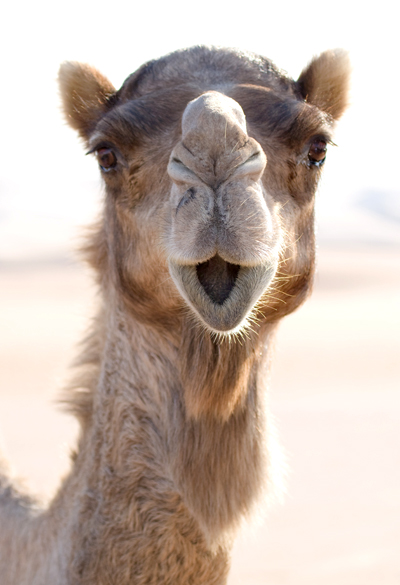 Arabia's favourite animal, the camel was another subject of the shoot in the UAE.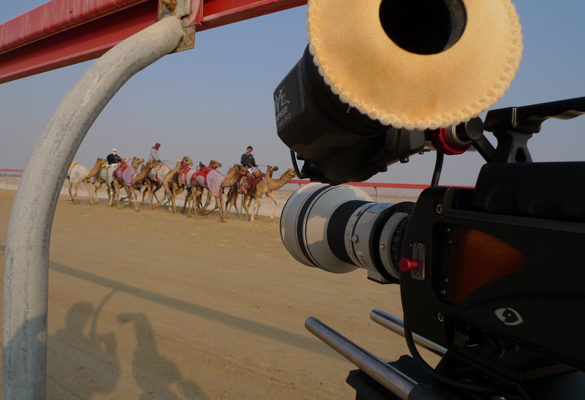 Camel races are strange events. We filmed some with a Phantom high speed camera and borrowed some space on a tracking vehicle to travel alongside the running camels. Racing round the track-side road with a mad crowd of 4x4s all hooting at their camels was quite an experience.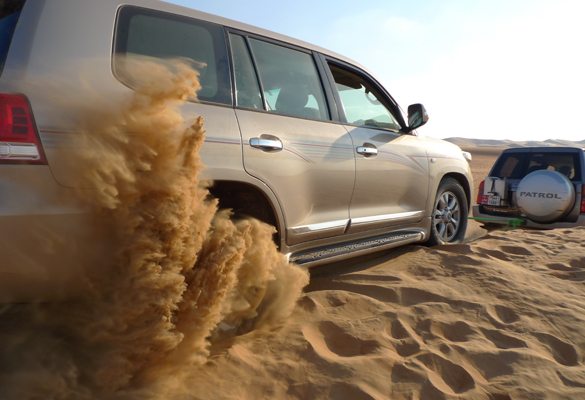 The falconry sequence was filmed in the dunes at dusk.
The search for the perfect backdrop taught us a few things about how (not) to drive in soft sand.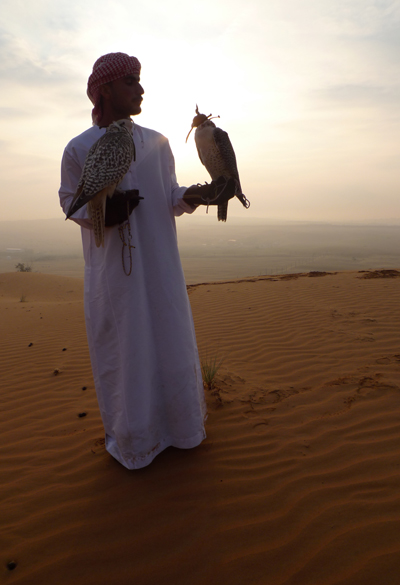 For an hour or two close to sunrise and sunset the falconers exercise their birds before the desert becomes too hot for the falcons to fly.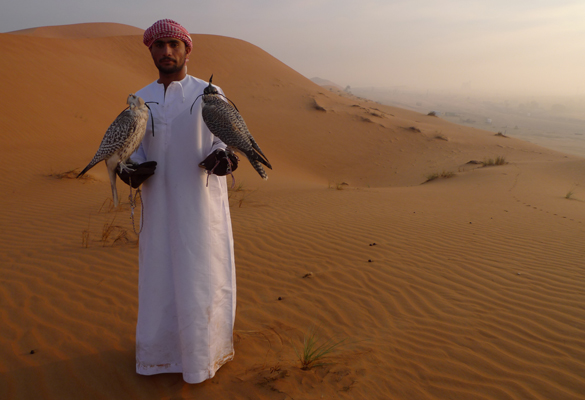 I'm not a big fan of captive animals but falcons are such independent-minded birds and they're quite capable of leaving whenever they are flown. It was clear that these birds had chosen to stay with their trainers.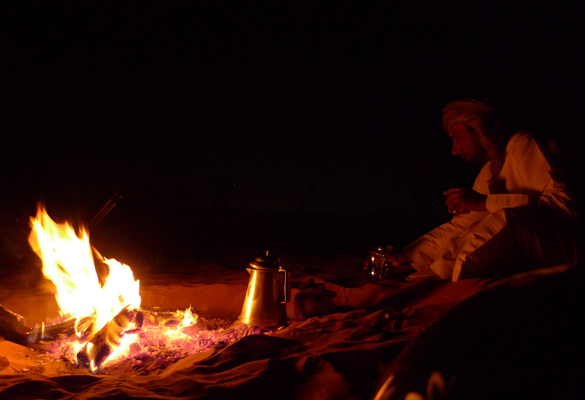 In the evening we sat around the campfire hearing tales of the origin of falconry and the value it still has in taking people out of their buildings and air-conditioned cars to reconnect them with the desert.
Jordan: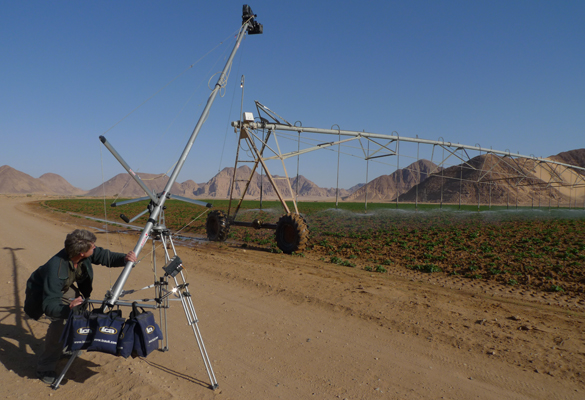 Irrigated fields like this in Jordan are a magnet for migrating birds. Every morning it was fascinating to find it filled with yellow wagtails, chiffchaffs, redstart and many other passerines, as well as steppe buzzards and four species of harriers trying to catch them.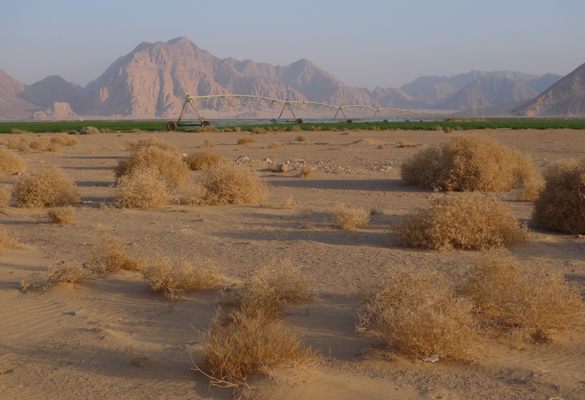 The buzzards and many of the smaller birds rode the irrigation arms around the field and bathed in the spray from the nozzles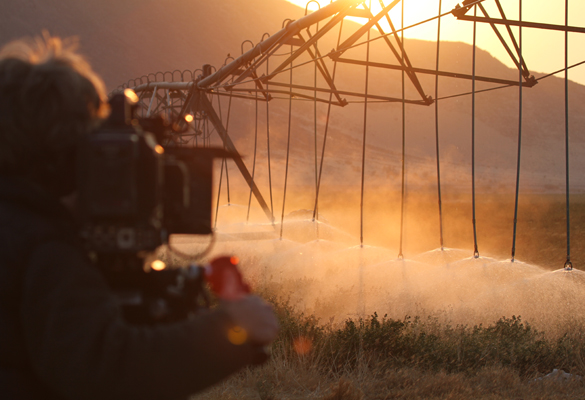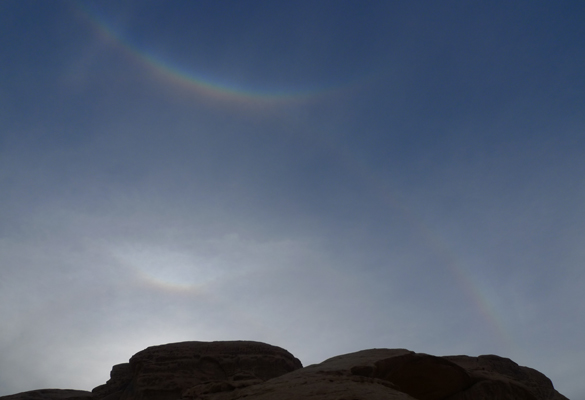 The desert was really cold at dawn. Clearly it was even colder higher up because these halos around the sun were made by suspended ice crystals. They were the most complex halos I have ever seen.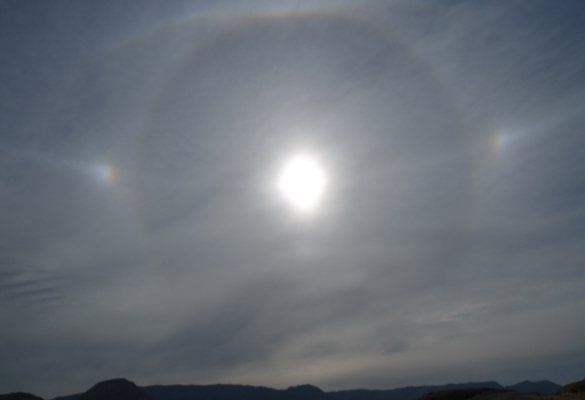 Sundogs either side of the sun and three different halos and arcs around and through it.
The morning coffee was hot and very welcome. We were surrounded by reminders that people have been camping here for a very long time.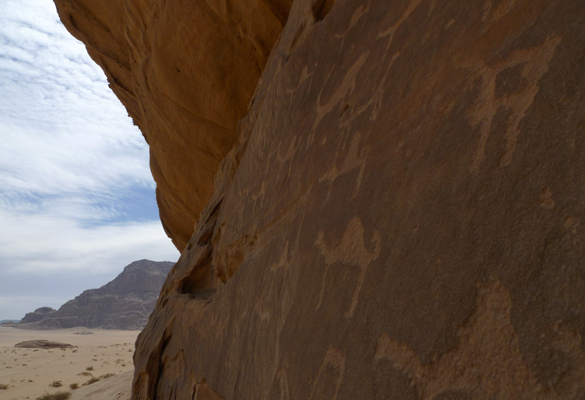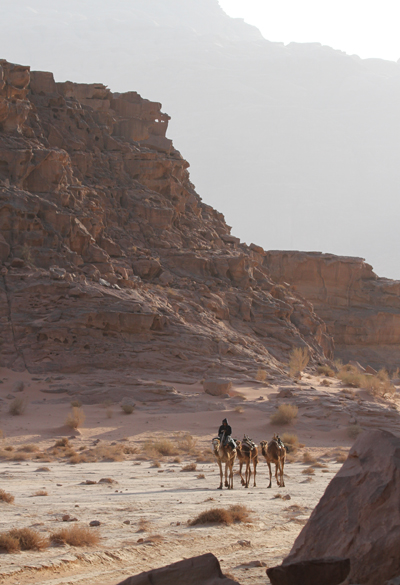 Two thousand years ago people passed this way carrying valuable Frankincense from Yemen to the Mediterranean. Near the places they camped they carved pictures on the rocks.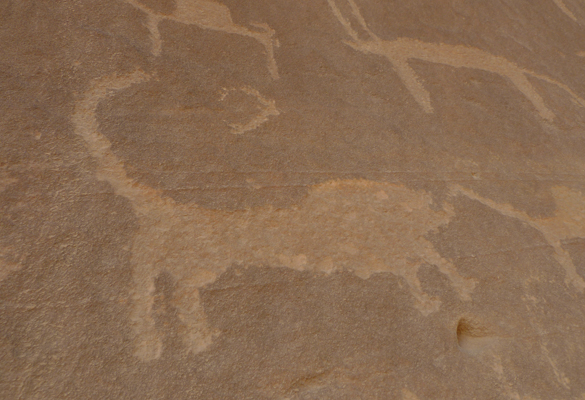 Some of them show animals long vanished from Arabia like this lion.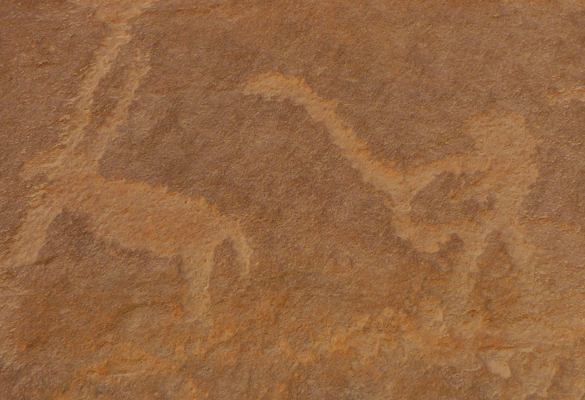 And this ostrich.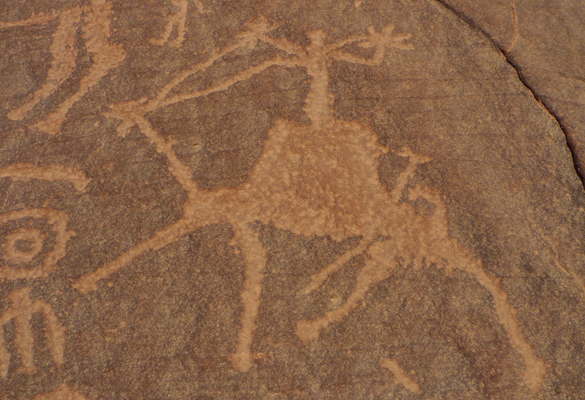 Mostly though they are images of camels. I love this guy's enormous hands.
And this I think is an archer hunting big cats judging by the huge looped tail of the one he's shot.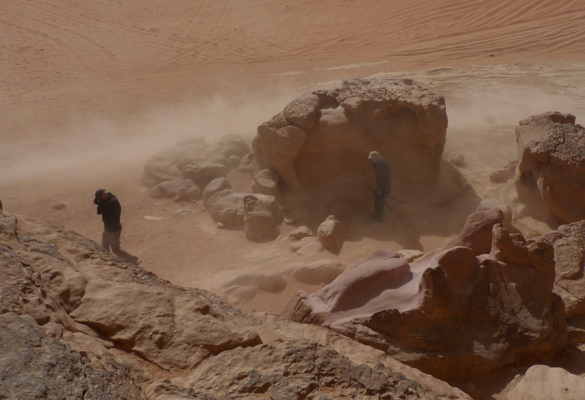 Blasts of sand and air caught us out while we were setting up the crane to film the carvings.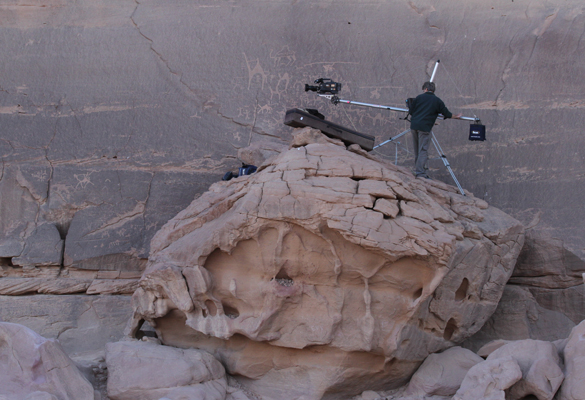 Not the easiest place to balance a crane – the present level of the sand must have fallen.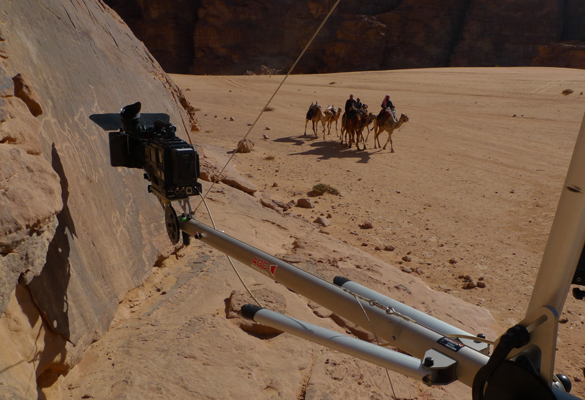 But passing groups of camels made a graphic connection between the ancient carvings and modern day. They are still a good way to move around the desert.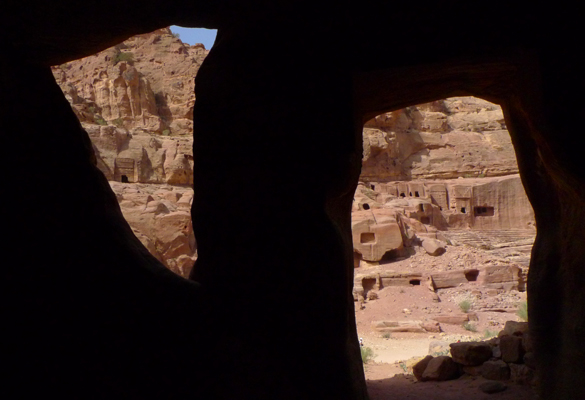 At the end of our time in Jordan we had a day's filming in Petra, the extraordinary city carved from solid rock.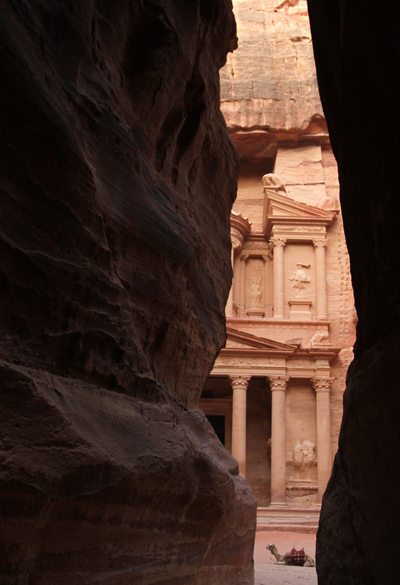 40,000 people once lived here but in time Petra was abandoned while the Bedouin's footloose lifestyle is the one which has survived.