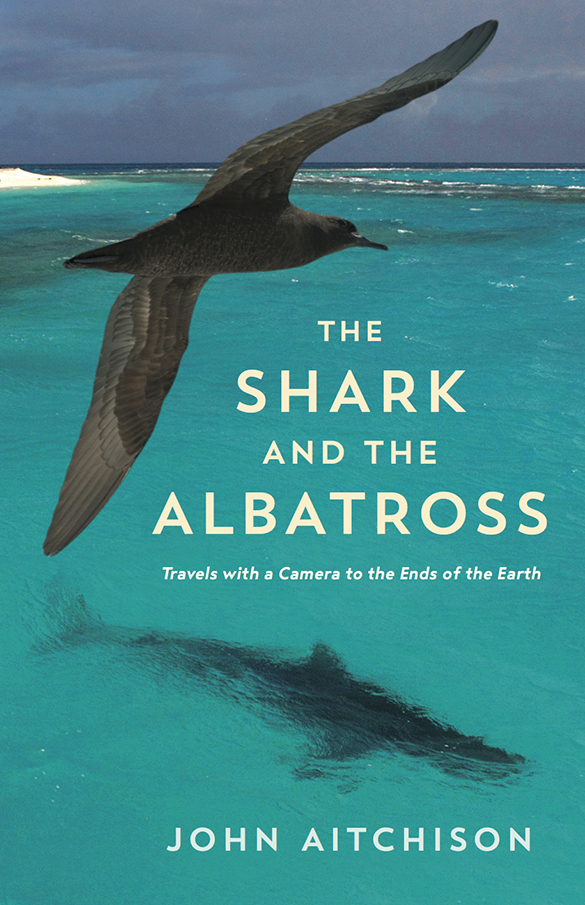 Included in The Guardian's list of the best nature books of 2015.
and
The Express's list of the best nature-inspired books of the season.
This is a lovely book, vividly written, giving us a fascinating insight into the world of wildlife photography. It is a must for all those who enjoy insights into the natural world.
Alexander McCall Smith
These evocative stories are from the heart of the keenest observer, a skilled cameraman and a superb naturalist…You have crafted a wonderful companion to your visual records, given a knowledgable and fascinated voice to unseen tales, trials and tribulations and you have told the truth about the process and the predicaments. It's evocative, it made me want to 'go there'. It's 'behind the scenes' but not the mechanics, rather the feelings.
Chris Packham
CBC Radio, The Current
Anna Maria Tremonti interviewed John about the book for The Current on CBC Radio.
You can listen to the interview here.
Every now and then a non-fiction read comes along that's an utter joy.
Scotland Outdoors
If you've ever dreamed about being a wildlife photographer, you will love this book. Aitchison takes us on his travels among some of the most wild and charismatic of species – polar bears, wolves on the hunt for elk, and humpback whales, and albatrosses just learning to fly – and shows us via well-told and often poetic stories how he gets his stunning images. This is not a how to book, but a book that celebrates all that Aitchison loves about his work and where it takes him and the animals he watches and captures in film or still photos. He knows full well how endangered many of these species are, and his great hope is that the rest of us, looking at his images, reading his tales will love the animals as he does. That we will be moved. I was. You will be.
Virginia Morell, Author of Animal Wise: How We Know Animals Think and Feel
The Shark and the Albatross is published in hardback in the UK by Profile Books and by Greystone Books in North America. Follow them on Twitter @ProfileBooks and @greystonebooks for news about this and other books.
The Shark and the Albatross is widely available in bookshops, including Waterstones, and in the UK you can order it from Profile Books here and in North America from Greystone Books https://greystonebooks.com/products/the-shark-and-the-albatross
Its page on Amazon UK is here. It has more than thirty, five-star readers' reviews.
A Kindle/ebook version is also available
John can sign and post copies. Email him here.
The book has also been published in China.
There is also an audio book here. on Audible, read by the author.
Interviews:
BBC World Service – Outlook
Matthew Bannister talked to John about The Shark and the Albatross.
You can listen to the interview here. The section starts about 11 minutes 30 seconds into the programme.
BBC Scotland – Out for the Weekend
Fiona Stalker and John chatted about the book here.
Insight Radio – Talking Books
While John was recording the audio book for Audible in the RNIB studio in Glasgow, Robert Kirkwood interviewed him for Insight Radio. You can download a podcast here.
Roundhouse Radio, Vancouver, Our City
Kirk LaPointe interviewed John in advance of the North American edition's publication.
You can hear their conversation or download an MP3 copy here.
Face2Face
David Peck interviewed John for his interesting website, Face2Face.
You can download an MP3 copy here or listen to the interview below.
ABC Radio National, Saturday Extra
Geraldine Doogue, of The Australian Broadcasting Corporation's Radio National Saturday Extra programme, spoke to John about The Shark and the Albatross.
You can hear the interview here
CBC Radio, The Current
Anna Maria Tremonti interviewed John for The Current on CBC Radio.
The interview is here
Reviews:
James Attlee in The Independent said:
'Wildlife cameraman John Aitchison brings a fresh insight to the natural world…Long hours seeing the world through a telephoto lens give his narrative a heightened, almost hallucinatory sharpness: the fur of a swimming polar bear swirls "like cream in black coffee" as the surface of the sea crackles, freezing around it into crystals "as elaborate as ferns or ostrich plumes"…This is nature writing for a technological age, rich with zoom-enabled insights, the gleaming beads of water on the feathers of a migratory bird in the middle of a vast lake as close at hand as the ground beneath our feet.'
You can read the review here.
Stephen Moss reviewed the book for The Daily Mail.
His review is here.
Mike Unwin reviewed the book for BBC Wildlife Magazine.
'Wildlife cameraman John Aitchison is best known for his work on Frozen Planet, Springwatch and other BBC favourites…He is also a fine writer. These travel tales from some of the world's most far-flung wildernesses will enthral fans of those behind-the-scenes diary outtakes that accompany today's wildlife blockbuster…Aitchison's intelligent, evocative prose brings real depth to his stories, and his human subjects – from a tracker in the Yukon to his own grandmother back home – spring as vividly from the page as his polar bears, humpback whales and wandering albatrosses.'
You can read the full review here and see a gallery of photos related to the stories in the book.
In The Express Charlotte Heathcote writes:
'Cameraman John Aitchison has a rare quality in our hurly-burly world: he understands the need for patience. In these absorbing, elegant essays, he relates how being still allows him to see the world uniquely then to capture those images on film for programmes such as the BBC's Frozen Planet. He has waited in the cold grip of the Svalbard for hungry polar bears, perched on a skyscraper in New York to watch for a peregrine falcon and wandered Yellowstone Park on the trail of wild wolves.'
Susan Swarbrik wrote a piece about John for The Herald.
You can read it here.
Scotland Outdoors said:
'Every now and then a non-fiction read comes along that's an utter joy – in the way it's written, what it reveals about the natural world and about the teller. This evocative book by one of Scotland's pre-eminent wildlife filmmakers is one such. I found myself reading it in the week the most recent BBC series John filmed for, The Hunt, started screening, which made it all the more fascinating. His tales from behind the lens reveal the logistics, time and patience required to bring this footage to our screens. But they also reflect more widely on the complex interplay between humankind and nature. With warmth and passion, he tells the story of his subjects' battles to survive…Rhythm and pattern pulsate through his beautifully crafted prose.'
You can read the whole review here.
In The Literary Review Tom Mustill said:
'These experiences are woven together into a humane and affecting book…surprisingly it is the descriptions of people that are the most moving: the film crews. icebreaker skippers, rangers and eider farmers with him he eats. sleeps, jokes and toils. He observes and characterises these humans are keenly as the animals.'
You can read part of the review here.
Foreword to the North American Edition – by Carl Safina, author of Eye of the Albatross and Beyond Words: What Animals Think and Feel
'I'm a big-picture guy, and John Aitchison has given us a big-picture book. The shark, the albatross, falcons streaking high overhead, penguins flying down into the icy blue. And more.
Many people behind the camera, frankly, aren't the best with words; their art is in the seeing and their lens does the talking. And that is usually how it should be. We all talk too much and we can often learn more by quieting down and just watching. Through their lenses, we have acquired our impressions of much of the world. It's hard to overstate the importance of that.
But Aitchison is unusual because in addition to being a fine cinematographer, he is good with words. He writes gracefully, insightfully, modestly. He is straightforward. He is evocative. Years of seeing detail through the lens has imbued him with the rare skill of painting with words.
Words, especially written words, are completely illusory. To wield them well one has to be a bit of a magician. Yet Aitchison pieces written words together in a way that makes us see and feel. That is the best thing a mere writer can do.
In these pages Aitchison is aware that he is a visitor, and privileged to be where he is, observing what he is seeing. Cinematographers and writers often have opportunities to see what few people can see. Even the best wildlife researchers, tied as they are to their own special species and specific field sites, seldom glimpse as much firsthand as has John Aitchison. His job is to help us see it with him, and he takes the task seriously and he delivers, solidly.
What I most like about Aitchison's approach is that, implicitly, he views the living world as sacred. He ventures out as though he is stepping into a cathedral of planetary proportions—which indeed he is. "I can think of little worse than coming here to film bears and having to shoot one instead," he writes, "but it is a possibility we have to face because they are formidable animals." Two things here: he forebears (no pun intended) twice in the same sentence. Usually, guns change the balance of power between humans and the Living World, but not in Aitchison's mind; he hates the idea. Second, he calls the bears "formidable," which in itself is restrained. A polar bear is in fact very dangerous to an unarmed human. The only thing more dangerous—is an armed human.
This book has few pretentions. We are merely treated to a view of the world at a special point in history. Ours is the time when we remain on Earth in the company of the great creatures: wolves, whales, falcons—. We can still look overhead to see scarves of geese flowing along ancient annual migration routes in the skies. Great fishes still swim beneath the sea, and penguins—perhaps the strangest birds in all the world—continue to weave themselves through the sea surface and plunge into swarms of krill.
We have changed the world greatly, and in diminishing the living world we have diminished ourselves. "It is impossible to travel widely," Aitchison ventures, "without seeing that many wild animals are struggling."
Yet these are not pages of doom. They reflect the energies with which all life around us strives to stay alive—and beautifully so.'
Marvellous stories, tenderly told! You have to wonder whether John Aitchison is the luckiest man alive, given access through his persistence and empathy to everything this book contains: wolf whiskers covered in frost, the peregrine's view of the city far below as if the people there were the inhabitants of a distant sea floor, the everlasting grace of the albatross on a storm-thrashed ocean. Here you'll find a version of the world which is more real, more intense and, sadly, more beautiful than the one most of us are forced to occupy.
Adam Nicolson
In a word, beautiful. John shares the experience of patiently waiting, then the euphoria of capturing the action; capturing the art in nature. I love the storytelling, along with the atmosphere and the eloquence.
Bill Oddie
In clear, luminous prose, John Aitchison takes us by the hand to experience what it is really like to be one of the world's top wildlife cameramen. Tigers, polar bears, albatrosses, a million snow geese, fur seals….from peregrines on the skyscrapers of New York to the Antarctic, from his home shores of Scotland to Yellowstone's wolves, this book is a kaleidoscope of brilliant wildlife experiences not to be missed.
Sir John Lister-Kaye
John's approach to showcasing his passion for the natural world has always been one of gentle empathy, from a man who sees beyond the superficial and into the soul of a moment, the essence of a life. This book is a distillation of that empathy and reveals why so many of the stunning images that have graced our screens through his lens have an ephemeral and sensitive quality that is there for all to see in the real world. We are all the richer for sharing his vision.
Simon King
John Aitchison demonstrates in his first book that he is as capable with a pen, as with a video camera. I say "pen" rather than "keyboard" as I have personally witnessed Aitchison scribbling his impressions and drawing sketches in his notepad while out on assignment far from civilization, giving an immediacy to the events he records. Aitchison's lyrical descriptions of long weeks spent in pursuit of elusive wildlife in some of the most remote locations on earth reveal not only his passionate dedication to his craft, but also his deep affection for his subjects. In Aitchison's hands, a simple bird feather is able to tell reverential stories about the wanderings, behavior, and biology of the crane from which it fell, and the natural world is beheld anew with a child's sense of wonder and awe. Through his eyes we gain a sense of the hardships and danger involved in capturing never-before-seen sequences of wildlife behavior, and the extreme commitment of those hardy souls who venture forth to accomplish this labor of love. For fans of "blue chip" nature programs, such as those produced by the BBC Natural History Unit, this book reveals the stories behind some of the most iconic sequences broadcast in recent years, and leaves the reader with a feeling of actually having been there. Aitchison takes us to places most of us will never go and, through the poetry of his prose, allows us an intimate experience with the wild animals that inhabit these far reaches. Given the rapid changes in the Earth's climate and ecosystems, the scenes that Aitchison describes are ones that not only will most readers never have the opportunity to see, but, in some cases, scenes that perhaps nobody will ever see again. This book is part adventure, part natural history, and part historical record of an Eden rapidly disappearing, but preserved on "film" through the efforts of Aitchison and his colleagues.
Doug Perrine, marine wildlife photographer and writer
This book is a wonderful and transporting read, and shows you how being a keen observer is the most important skill for a wildlife cameraman. John Aitchison's considerable talents as a wildlife filmmaker may only be surpassed by his amazing ability to observe nature and write about it. If you've ever wondered what combination of skills and temperament is needed to pursue this dream job, just pick up this book.
Tim Laman, National Geographic photographer and filmmaker
Part travelog, part behind the scenes memoir and part commentary about the natural world, this book will leave you wanting to watch every film the author has made. The author's ability to project vivid images onto the mind's eye are as keen as his ability to capture them on film.
Edwin Scholes, Director of Research & Interpretation, Macaulay Library, Cornell Lab of Ornithology
This is a beautiful and profoundly moving book. It is written with sensitivity and humility, whilst remaining clear-eyed and objective about the environmental challenges faced by the species the author encounters. The wildlife scenes described in exquisite detail are incredible. The people the author introduces us to are inspirational. Highly recommended to anyone who cares about our precious remaining wilderness.
Amazon review
A wonderful and absorbing book. For someone who has always been passionate about our beautiful, fragile natural world, this book was a treat. John Aitchison writes so descriptively and sensitively that it's easy to become totally immersed in his accounts of filming diverse wildlife expeditions around the globe. His writing has moved me to tears several times but that's been perfectly balanced by amusement too…a wonderful and absorbing book.
Amazon review
I loved this book. Well written and full of interesting thoughts and insights. The natural world described by someone who has dedicated their life to observing and documenting it. Highly recommended.
Amazon review
Fascinating wildlife stories beautifully told. This is a beautiful, well-written account of the fascinating and sometimes dangerous work of a wildlife cameraman. I have always enjoyed watching the superb wildlife films on television and this book gives us an excellent insight into the skill and endless patience the cameraman uses to bring these pictures to our television screens.
Amazon review
Highly recommended. A truly beautiful and mesmerising read. Anyone who has watched and admired BBC series such as Frozen Planet will enjoy this behind-the-scenes view of how some of the most magnificent natural world events are brought to life.
Amazon review
One of the best books about wildlife filming & experiences in the field I have ever read. Utterly brilliant. John Aitchison will be well known to viewers of many wildlife programmes like Springwatch, Frozen Planet and many more. His lyrical and poetic descriptive writing makes you feel you are alongside as he patiently waits in a hide, observing all the natural world around him while waiting for one specific creature. I can't recommend this book highly enough, for a wildlife or photography fan, for a lover of the natural world, for those who like adventurers' stories – it's all there and written in a style which reaches into the heart and soul.
Amazon review
The shark and the Albatross offers a back stage pass to many of the best animal documentaries on TV. This book is a must read! I have always been passionate about animals and the way they are photographed in the wild. It's a fascinating and stunning read for any animal lover.
Amazon review
Enchanting and thought evoking. Highly recommended. Having seen many of the films made by John, reading the stories of 'the making of' made me relive those scenes, but also gave me an insight into his person.
Amazon review
Brilliant book- beautifully written
Amazon review
One of the most beautiful wildlife books I have read. Like the 'making of' programmes that follow most episodes of today's spell-binding wildlife television series it gives an intimate insight into the world of wildlife film crews. From logistical problems presented by weather, inaccessibility and uncooperative wildlife, to rewarding collaborations with scientists whose lives' work provides backbone to many wildlife sequences the crews manage to film, to the inevitable tug of homesickness that so many days spent away from family can bring…Most of his chapters end with an update of the species or location John has just described… I found it inspiring to read John's truths plainly spelled out, and discern his concern beneath. Here is a man who lives and loves Nature, and wants to draw readers' attention to the reality of situations faced by so many of the species he has spent time with. By turn, compassion, humour, fear and enchantment shine through his stories – written in a style that is clear, lyrical and honest. Anyone who loves Nature should read this book.
Amazon review
A wonderful read. Fantastic book. Highly recommend!!
Amazon review
Beautifully descriptive, and sensitively told. Enormously informative-packed with wonderful exotic tales of the natural world we live in but often overlook. For anyone interested in photography, travel, conservation, and wildlife this book it an essential companion.
Amazon review
Beautifully written book that transported me to far flung places. A highly recommended read.
Amazon review
Exquisitely written. Transports you to these iconic places and gives you the feeling that you were really there, experience these spectacular wildlife moments for yourself. A must read for anyone genuinely interested in wildlife and how some of those most memorable and dramatic scenes of wildlife behaviour reach our TV screens.
Amazon review
Spellbinding. A gentle and rewarding read and a wonderful literary compliment to the author's sensitive moving images.
Amazon review
A must for any fan of natural history programmes. This book provides a fascinating insight into the challenges faced in bringing stunning wildlife images to our TV screens. The detailed accounts are often humorous, but also conveys the sense of frustration when things do not go to plan. A thoroughly enjoyable read.
Amazon review
My second successive wildlife filming read and this is an equally enjoyable and fascinating insight into the subject. Absolutely beautifully written and with more of an eye for the philosophical, this book is a real delight – a series of vignettes with a camera-man's eye for descriptive detail and some riveting encounters with the whole range of animals. I think I appreciate the patience of his art, but I love the fact that he compares this with that of the more impressive polar bear, whose composure and self-control, make wildlife filming look hurried.
Amazon review
Beautiful and thought provoking. I put this on my Christmas list after watching the BBC series The Hunt and being re-inspired with my love of wildlife. I loved this book. The beautiful description and details make you really feel that you are watching the scenes play out in front of you. I made me think about world conservation for the animals and how that is vastly different in different countries. I enjoyed the different perspectives of the animals (Prey and predator) and how this is portrayed in wildlife documentaries. Although I have often envied the job of a wildlife photographer/film maker there were other things I hadn't considered before and don't think I would have the patience, stamina and bravery required so will stick to teaching teenagers! This book is beautiful, emotional and thought provoking. I look forward to reading more!
Amazon review
A must read for wildlife enthusiasts. This book is a journey through joy and heartache together. Anyone reading this sensitive and well written book must share the emotion of the writer as he films a fledgling albatross preparing to take to the wing for the first time, unaware that a predatory seal is lying in wait. We are taken from the remotest, hottest and coldest places to observe starving polar bears or to India to film tigers who are killed in supposedly "safe" reserves and to sorrow for the grubby penguins with no ice to stand on. I loved this book.
Amazon review
Brilliant read…John Aitchison's first book is a beautifully descriptive book about his passion for wildlife. But it's really much more than that, he writes so descriptively and sensitively you're transported on a wonderful journey around the world through his eyes and his years of filming wildlife. As an avid watcher of BBC wildlife programmes I'm already familiar with the author's on screen work but this book brings a new and revealing perspective on the making of wildlife films. John dedicates the book to his family and the memory of his grandma "who taught me to notice", I guess that lady would be very pleased with what she helped to inspired.
Any aspiring photographers or wildlife cameramen could do worse than read and inwardly digest this book. Highly recommended.
Amazon review
John's descriptive accounts of his filming locations is what makes this book a must read for all aspiring wildlife cameramen. His description of filming tigers in Bandhavgarh NP India brought tears of Joy to both my wife and I. We visited the park shortly before John, as we read his account it was as if we were there in person, such a treat!
Amazon review